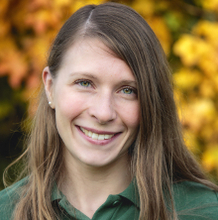 Lucy Grable
MSc Species Identification and Survey Skills
Ecologist
Lucy graduated from the University of Reading with a MSc in Species Identification and Survey Skills, which primarily focused on ecological consultancy. Lucy's background has a particular marine focus; she was awarded a first class honours for her degree in Marine Zoology, and has taken part in marine mammal research in East Africa and New Zealand.
Since joining ECOSA in 2016, Lucy is currently working towards gaining dormouse and great crested newt licences, and continues to develop her botanical identification skills.
Outside of work, she helps out with the Hampshire and Isle of Wight Wildlife Trust's education team, teaching others about the natural world. A budding naturalist, she also spends her time spreading awareness about marine issues through writing scientific articles, carrying out marine mammal and seabird surveys, as well as analysing humpback whale songs.