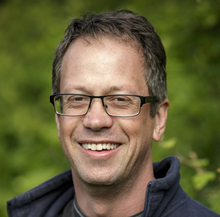 Graeme Down
BSc (Hons) Applied Biology, PhD (University of Bath)
Senior Ecologist
With a background in plant pathology and ecological consultancy, Graeme joined ECOSA as Senior Ecologist in 2018 after ten years working for a large multi-disciplinary consultancy. Graeme is well-versed in a wide range of ecological survey methods covering reptiles, amphibians, bats, dormice, badger and water vole, as well as being experienced in Ecological Impact Assessment (EcIA). Graeme's specialties however are botanical and ornithological survey, having carried out numerous kinds of habitat surveys and bird surveys throughout his career, and Habitats Regulations Assessment (HRA).
Graeme has managed numerous projects and actively led on surveys and reporting for clients such as local authorities, major infrastructure providers, industrial and residential developers, and organisations such as the RSPB and LOCOG. He has also recently taken on guardianship of land parcels for survey and monitoring for Hampshire Plant Group.
When not out bird spotting, Graeme can be found playing sport or singing in a choir.