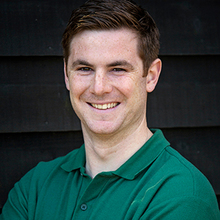 Edward Venables
BSc (Hons) Wildlife and Practical Conservation
Field Ecologist
Ed's past experience in the ecological field ranges from tracking bears in Canada to trapping hedgehogs in the Western Isles of Scotland. He has developed excellent field skills through his various previous positions which he now uses for ECOSA in order to identify the potential presence of protected species and survey for them accordingly.
Ed holds current licences for bats (Level 2), dormouse and great crested newt and enjoys working out in the field regardless of the weather.
Outside of work, Ed enjoys most outdoor pursuits including climbing and surfing. Although he hasn't found a way of incorporating surfing into ecological surveys, he has undertaken a tree climbing course so that he is able to climb trees in order to assess more closely their potential to support roosting bats.